Meet Dr. Paul Karl
Award-Winning Orthodontist
I've built a reputation for delivering uncompromising orthodontic care with an emphasis on patient comfort and convenience. You and your family can trust us with the care of your smiles. We value you, and it's our desire to provide you with precise, beautiful results that last.
Exceedingly Better Orthodontic Care Through Collaboration
My family dentistry experience has helped when working with dentists and other specialists because it translates into total patient care. Plus, my role in professional associations, along with my research and teaching experience, has allowed me to learn from the combined experience of all my peers. At association meetings, we discuss solutions for difficult cases, share new research, exchange effective techniques and generally build our base of orthodontic knowledge in order to benefit you, the patient.
Education
As an orthodontist in Grand Rapids, MI, having an extensive education is a powerful tool that helps me give you and your family the high caliber of orthodontic care you deserve. Each year, I take a variety of professional courses and attend many hours of continuing education to enhance my knowledge of orthodontics.
Masters - Orthodontics - University of Western Ontario
D.D.S. - University of Detroit Dental School - Detroit, MI
B.S.: Mechanical Engineering - Purdue University, West Lafayette, IN
Alumnus - L.D. Pankey Institute for Advanced Dental Education, Roth Orthodontic Center for Functional Occlusion
Continuing Education - I complete hundreds of hours annually
Adjunct Instructor - Orthodontics Department - University of Western Ontario
A Higher Education for a Higher Level of Orthodontic Care
Professional Affiliations
American Association of Orthodontists
American Dental Association
Michigan Dental Association
West Michigan Dental Society
Director - Michigan Association of Orthodontists
Published Author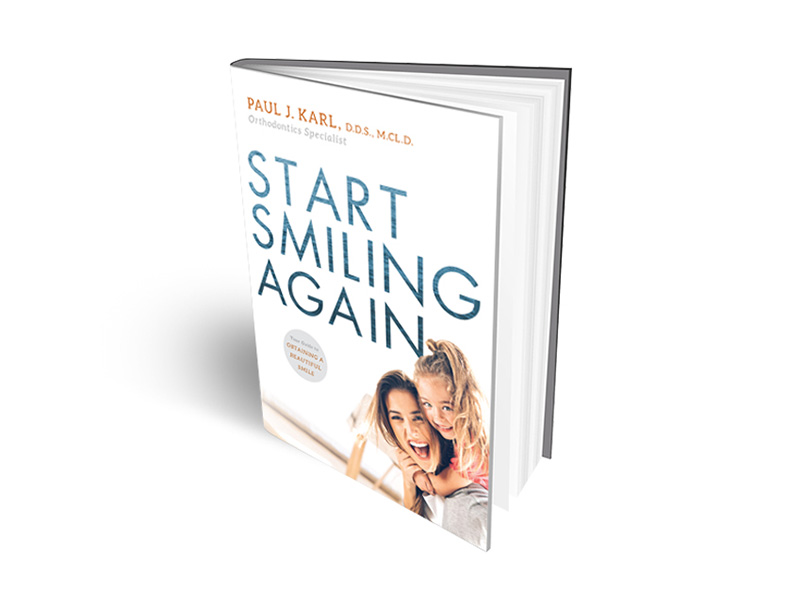 My approach to treatment includes taking the time to educate you and offer resources so you can benefit from a full understanding of your condition, available treatment options, and what to expect from treatment. In an effort to accomplish this goal, I have authored a book that provides helpful information on a variety of topics relating to orthodontic treatment.
Inside my book, Start Smiling Again: Your Guide to Obtaining A Beautiful Smile, you'll discover:
The most frequently asked questions from patients and parents before making the important decision to transform their smiles.
How the latest orthodontic technology works for you and your lifestyle. If you thought braces were ugly and painful, think again.
Answers to the most-pressing concerns before braces or InvisalignⓇ. Doctors agree that this book is a mandatory checklist of things to consider before starting orthodontic treatment.
How to choose an orthodontic specialist to provide your treatment with maximum results, minimum investment, and the most-efficient treatment timing.
Get your FREE copy at your initial consultation!
Outside Our Grand Rapids Orthodontics Office
When not building beautiful smiles and healthy bites, I enjoy quiet times with my wife and our two dogs, boating, golfing, biking, and winter sports. I especially enjoyed the many years of coaching soccer and basketball for my three daughters.
My favorite part of the day is showing my patients and their parents their finished beautiful smiles and healthy bites. It is so exciting to realize that every day I go to work, people's lives are improved. That feeling makes me very grateful I am able to work in such a great profession, with such a great staff, and keeps me excited to keep working and give 110%.
---
Meet Dr. Paul Karl - Schedule Your Appointment Today
To experience our 5-star-rated orthodontic care, schedule your Free New Patient Consultation today by calling (616) 459-7171. You may also use our convenient online form. Your appointment includes the following:
Discuss Your Goals
Digital X-Rays & Pictures
Complete Exam
Custom Treatment Plan
Free Copy of Dr. Karl's Book, Start Smiling Again: Your Guide to Obtaining A Beautiful Smile
During your appointment, we will take the time to explain our approach to treatment and answer any questions you may have. We look forward to helping you achieve your healthiest smile!